Welding
---
Stone Exhaust has experienced staff in the art of welding


Stone Exhaust's welding art pieces are important pieces of culture. A perfectly crafted product requires a design suitable for multiple complex angles. These designs and angles cannot be duplicated using a mechanical welding arm; therefore, manual welding is a vital link in the process. When Stone Exhaust's welders are trained, they not only have to go through a professional assessment process but their products are subject to professional strength and aesthetic tests. Only when there is no doubt that the welder has mastered their craft can they stand at one of Stone Exhaust's welding stations to complete a product. This has always been an unchanging staple of Stone Exhaust's training and professional culture.
---
Stone Exhaust's direct spot welding technique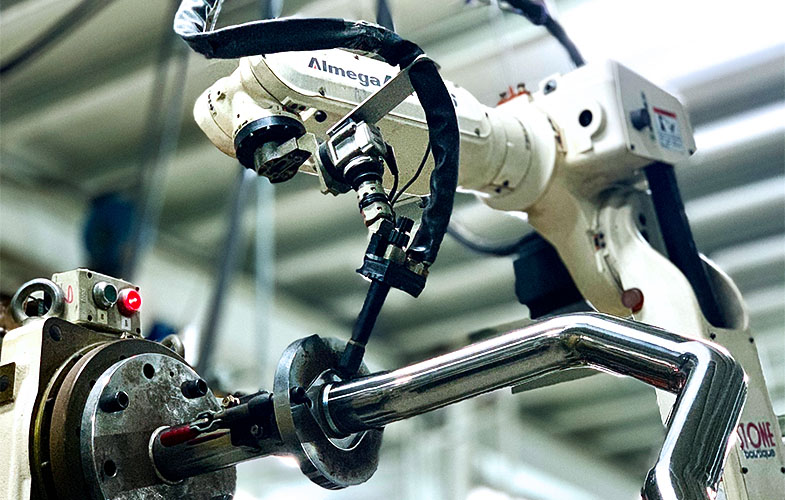 Our years experienced engineers with the assistants of mechanical welding equipment, this is undertaken by mechanical welding arms to achieve greater precision and penetration in their welds, leading to quality products with reliable performance, resulting in an end product that is a work of art.
---
Stone Exhaust the Apex of Welding Art: Crisscross and Overlap Welding Technique

Stone Exhaust Crisscross and Overlap Welding is the latest technique specifically developed for gas turbine engine in the market. For turbocharged engines, when the temperature reaches between 800℃ to 1100℃ from the release of the exhaust turbine, the down-pipe of the exhaust manifold of the exhaust turbine turns fiery red just like lava, and also it is at the most fatigued condition for metal rigidity. In order to make the connection point between the flange and the pipeline in the exhaust turbine to reach the highest rigidity and tolerance, we specifically focus on the surface area of welding for technological advancement. Stone Exhaust has developed crisscross overlap welding technique in which crisscross welding is done from three different angles within the same welding area, and the width of the welds is also increased to raise the limit of each welding point. Under the condition of a higher temperature of the exhaust and longer duration in operation, the welding points do not break up or leak any gas, bringing you a solid and reliable experience. It is also a guarantee of Stone Exhaust's welding quality and style.